New York Judgment Collection and Recovery Specialists With
NO RISK TO YOU!
If we do NOT collect money for you
we do NOT get paid….
All of our work will be conducted with no out of pocket expense to you.
There are no additional costs, no retainer required, and NO ASSIGNMENT OF JUDGMENT for our service.
Our fees are computed on a  contingent basis. We will receive payment only after having recovered money for you.
If HK Recovery Group, Inc.  is unable to recover any money, there will be NO fee.
The fee for providing this service will be only 33% percent of money recovered.
MANY CASES SETTLE IN FULL IN AS LITTLE AS 90 DAYS!
NO TRICKS… NO GIMMICKS! This is what we have been doing for individuals and collection professionals for nearly 20 years.
The 3 Steps To Getting The Money You Deserve….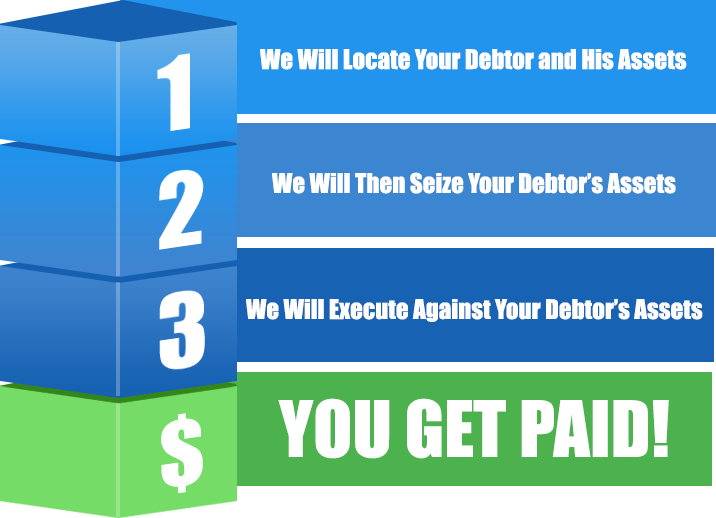 Do you have an unpaid judgment in New York? Stop waiting - GET PAID NOW!
We are NY judgment collection and recovery specialists
With 20 years of experience in collected unpaid judgments, we are confident we can collect for you. We have collected thousands of judgments by locating and seizing debtor's assets which include seizure of bank accounts, brokerage accounts, salary garnishments, automobiles, boats, planes, insurance proceeds, royalties, real and/or personal property, often in as little as 90 days. We advance all the costs while enforcing your uncollected judgment insuring we aggressively pursue each and every case. Give us a call today and speak to a live representative who can assist you in getting started today!
Call (631) 331-0603 For More Information On How We Can Recover Your Judgment Today!